It has been amazing to see the explosion in interest in women's football, but it would be sad if that growth means it loses one of the things that makes it so special.
Part of its magic is down to the close connection the players at the top level have always had with fans, which makes it different from the limited access the public gets to the stars of men's football.
That kind of engagement is something to cherish, but how do you maintain it as the game continues to expand commercially at such a rapid rate?
This is part of a wider issue where we have got to this point so quickly that the sport has outgrown its existing infrastructure.
For example, while there is currently a huge drive in participation of the women's game at grassroots level, which is fantastic, the facilities are maybe not there yet.
To address that, we are seeing investment in terms of making more pitches, coaches and referees available. The issue of fandom needs tackling in the same way – and now is the time to act.
It has become a hot topic for players as well as supporters, but ultimately it is down to organisations to decide what they want to do about it and which direction to take.
Why fan inclusivity is worth trying to keep
As a player, I experienced the transformation of the women's game in the UK from amateur to semi-professional to professional in the space of a few years, and I also witnessed the role the fans played in making that happen.
They were an integral part of its organic growth and dazzling rise, so the quality of their experience needs to be considered for its future.
I remember when fans came to our games at Manchester City and they would stream the entire match on Periscope because there was no other way for people to watch it if they could not come to the ground.
I was thinking about why someone would do that, and what it meant to me, and it feels like that level of dedication and commitment suggests there is more to being a fan of women's football than just going to the games then going home.
There is something bigger there, like the desire to share experiences and connect with a wider community of people who feel the same way, and ultimately find a sense of belonging.
That is something that is true of all sports, but is it more special to women's football? It is hard to say, but what our game has now is worth trying to keep. The question is how.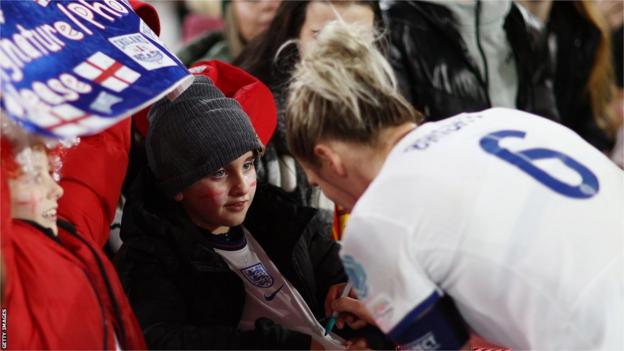 Players need a structure put in place
With the professionalism of the women's game and the explosion in interest in everything around it, it was inevitable that the inclusivity of supporters would be affected. Players just do not have time for everyone on a match day any more.
Manchester United and England goalkeeper Mary Earps spoke last week about how it is getting harder for her to keep fans happy after games, but it is not the responsibility of individual players to find the answers here.
The clubs, and organisations like the Women's Super League and Football Association, need to address these issues. They have to because, as the game continues to grow so quickly, it is important to get these moments right.
Engaging with fans was always important to me – I would spend so much time with them after England games that people would have to come and get me off the pitch.
I felt I wanted to see everyone because they had made the effort and spent a lot of money to come and support us.
There is an element of knowing you can make people feel special, which is important, but it is a two-way thing. I had so many interactions that made me feel like I was on top of the world too.
There were Women's Super League games earlier in my playing days when you might get a crowd of 200, and maybe 20 to 50 fans would stay behind after the game for autographs or to talk to us.
Things are very different now. I co-commentated on England's Nations League win over Belgium for BBC Radio 5 Live on Friday and there was a sell-out crowd of more than 28,000 at King Power Stadium.
Clearly, not everyone was going to get the opportunity to meet their favourite England player afterwards. It is the same in the WSL, where the average attendance last season was above 5,000.
But the intention is still there, and it goes beyond just the message of thanks that was put up on the big screens at the final whistle on Friday.
I know these players and they love connecting with fans the same way we did during my career, but for that to continue we need to put a structure in place to reflect these much bigger crowds.
At the moment there are too many factors detracting from their experience.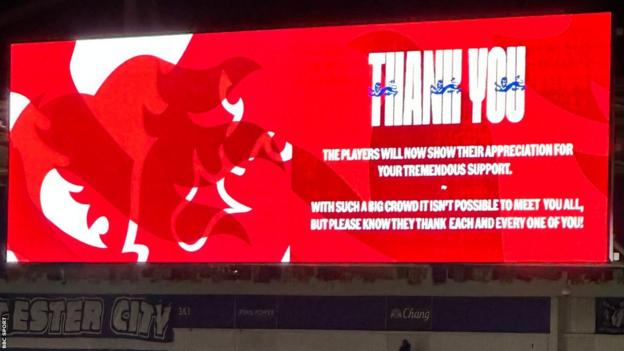 Would a wider strategy help?
I am not sure whether it is better for players to spend more time with fewer people after games, chatting and engaging like that, or for them to get around as many fans as they can, giving them a quick autograph or posing for a photo.
It is a scenario which needs planning and supervision, the way tennis players at Wimbledon spend time signing autographs after matches before they come off court.
It will also cost money. There is clearly a huge appetite for player access, but if you are going to provide it properly post-match as well as setting up specific events elsewhere, you will need to leave floodlights on for longer, keep stadiums open later and provide security and supervision for fans and players.
By supervision, I mean someone who will manage fans' expectations and let them know that the players' time is limited, but also ensure they get the special moment they want and do not feel like someone else gets preferential treatment while they get fobbed off.
At the moment there are inconsistencies or tensions, sometimes just down to the security doing their jobs and trying to get fans out of stadiums as quickly as possible, even when the players are there. That is what upsets supporters and leads them to criticise the players when they see them walk away.
From a players' perspective, you can also end up with awkward situations where you are walking back to your car on your own and get approached by a group. You are thinking 'I am sure they just want a picture', but you don't really know what is going to happen and it can feel uncomfortable.
The whole thing needs to be managed better, and some clubs are already trying to put specific plans in place for their women's teams.
At Manchester City they now have what is known as 'autograph alley' where some fans are selected to meet players after games and, as part of that, they have stopped allowing pitchside photos with players after a match.
But maybe there needs to be a wider strategy, from the Football Association too as part of their vision for women's football.
While it is impossible to ensure all fans have the experience they want, we should recognise we have something that should be valued and make an effort to maintain it.
Karen Bardsley was speaking to BBC Sport's Chris Bevan.