When Brenner Woolley says this is "the happiest" he has ever known Ipswich Town, it isn't hyperbole.
Woolley is the man who has commentated on more than 1,000 Ipswich games for BBC Radio Suffolk.
Before facing Fulham in the EFL Cup fourth round, Ipswich – who clinched promotion to the Championship in April – are second in the division and in the hunt to end a 22-year absence from the Premier League.
For Woolley, Ipswich's rise over the past 18 months can be traced primarily to one man – the manager, Kieran McKenna.
"Phenomenally sharp and intelligent, and a genuinely good bloke," Woolley tells BBC Sport, having previously apologised in advance for his gushing praise of McKenna.
"I've interviewed enough players to know when they say one thing, their eyes say another. But you can tell none of the players have anything bad to say about Kieran, as a manager or human being."
The huge esteem in which McKenna is held at Ipswich stems from his success on the pitch, born from a coaching style carved from experience and attention to detail that belies his age of 37.
McKenna may be the second-youngest manager in the top four English divisions – Daniel Rohr, Sheffield Wednesday's newly appointed 34-year-old coach, is his only junior – however, he has more than 15 years of experience.
McKenna was a promising youth midfielder at Tottenham when a knee injury forced his retirement from playing aged 22.
He moved into coaching, studying sports science at Loughborough. Learning to study at university enhanced his attention to detail and has influenced his management style.
In every home game he goes to the analysis room at Portman Road, the last room on the left before the home changing room, at half-time and full-time before speaking to players, to ensure his tactical feedback is spot on. He works alongside head of analysis and first-team coach Charlie Turnbull, who was coached by McKenna at Loughborough.
After university he returned to Spurs and coached the under-18s, before his beloved Manchester United came calling. McKenna led the youth team to their league title in 2017, then was promoted to the first team and served as assistant to a revolving door of managers. Jose Mourinho and Ole Gunnar Solskjaer both called on him as their number two.
"Coming from the highest level, he might not have known that much about the squad, but the fact he arrived from Manchester United carried weight with those players," says Woolley.
'It's not normal what he has done'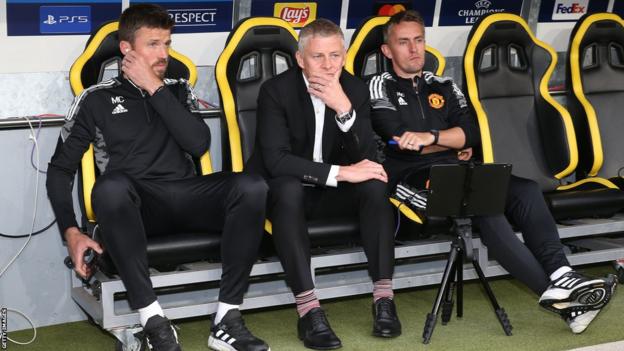 In December 2021, aged 35, he took over an Ipswich side who were 11th in League One. In 2022-23, they were promoted with 101 points. In 2023-24, they have won 11 of their first 13 games in the Championship.
"It's probably not normal what he has done as a young manager in less than two years in the job," Ipswich midfielder Lee Evans told Ipswich Town news website TWTD.
"He's a top, top manager and probably for all the players the best they have ever played for."
Following Mick McCarthy, Paul Lambert and Paul Cook in the Ipswich hot seat, McKenna was a huge departure from the norm when appointed at Portman Road.
Eschewing old school management styles, the Ipswich boss has been influenced by Mauricio Pochettino, who was in charge of the seniors while McKenna worked with the juniors at Spurs.
McKenna was also a huge admirer of Erik ten Hag's Ajax, while Ipswich players are regularly shown footage of Brighton under Roberto de Zerbi as inspiration.
Drones film training, while a golf buggy with an 80-inch TV attached is on hand at the training ground for players to immediately watch back and analyse their work. The televisions in the canteen show annotated training footage.
A remarkable element of Ipswich's great start has been the precious few changes to the playing squad from League One. Six players were signed in the summer – two on free transfers, three of them goalkeepers.
Centre-backs Luke Woolfenden and Cameron Burgess were at Ipswich when McKenna first arrived. Woolfenden was placed on the transfer list by predecessor Cook while Burgess was usually deployed as a sub.
The pair are now McKenna's starting centre-back duo, with Burgess playing 90 minutes for Australia in their recent friendly against England at Wembley.
'He explains his reasoning'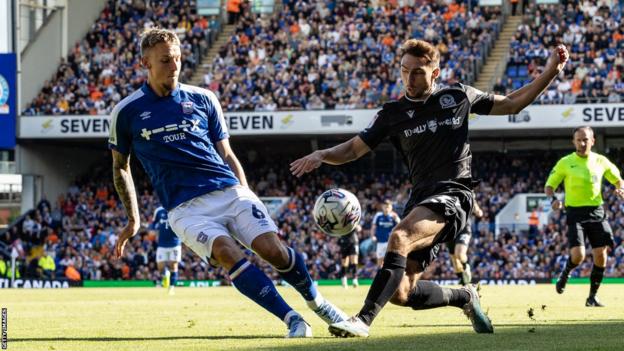 While McKenna is benefiting from stable ownership following a takeover by a US investment group in 2021 which has seen club infrastructure given a badly needed update, results have not come from throwing money at the problem.
"No-one expected this start, but he has changed very little," Rich Woodward of the Blue Monday podcast told BBC Sport. "The form at the back end of last season gave us a huge amount of momentum, smashing teams 4-0, 6-0. That form, plus recruitment, put us in a decent spot.
"We pursued a few high-end targets in the summer, and missed them, so we may have lucked out with the team cohesion you see now."
McKenna has also changed the way in which the club interacts with supporters and the media – which has not gone unappreciated.
"He speaks really well, doesn't patronise the fan base and explains unpopular decisions," says Woodward. "That's a huge departure from previous managers.
"Last season, a lot of fans were worried about us playing out from the back. McKenna explained his tactics, said fans need to get used to this. Previous managers would have said to shut up, but McKenna explained his reasoning."
"He's an absolute dream," agrees Woolley. "He treats people with respect, treats the media like human beings.
"The final game of the '21-22 season at Crewe, there's three or four of us in the usual travelling press corps. Kieran said: 'Thank you for your support, it's much appreciated.' Our jaws dropped; we are not used to that, and it's such a small thing."
'Players have their say on infrastructure, travel, food on the menus'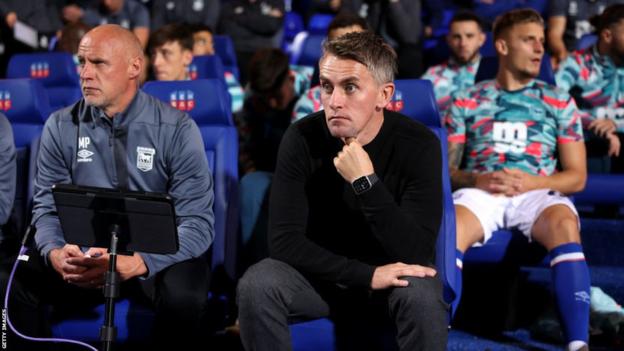 Openness and trust in players is also part of the McKenna management style, with a player leadership group set up to represent the squad on matters related to the running and organisation of the team.
"It's something that the players vote for, it's a set-up that I like," McKenna told BBC Radio Suffolk earlier this season. "We got them to vote for four players to join Sam [Morsy, club captain] in the leadership group.
"The players selected a group they thought would represent the dressing room well, I sit in irregularly but otherwise they will meet with [coaches] Martyn Pert and Lee Grant and discuss off-pitch issues, areas where we think we can progress, and they will come back to me with things they think I need to know.
"It might be anything from the schedule to infrastructure around the building, travel, food on the menus, anything they think can be improved."
How far McKenna – who wants a return to coaching in the Champions League one day – will take Ipswich remains to be seen, but with a contract until 2027, the positivity around the club looks likely to stay for a while yet.