Key events
Life in Zanuta, a Palestinian village atop a windy ridge in the desolate south Hebron hills, deep in the occupied West Bank, has never been easy.
The community are mostly herders who raise goats and sheep through the barren landscape's scorching summers and freezing winters, and who have steadfastly refused to leave their homes despite the mounting difficulties posed by the Israel Defence Forces (IDF) soldiers on one hand and radical Israeli settlers on the other.
But after weeks of intense settler violence in the aftermath of the Hamas attack on Israel on 7 October, Zanuta's 150 residents have made a collective decision to leave. Armed settlers – some in reservist army uniforms, some covering their faces – have begun breaking into their homes at night, beating up adults, destroying and stealing belongings, and terrifying the children.
After decades of a desperate fight to cling on to their land, the community has decided they have lost.
On Monday, men and women cried as they dismantled their homes and haphazardly packed solar panels, animal feed and personal belongings on to pickup trucks. The noise of the demolition drowned out the bleating from the animal pens and threw up dust and debris that tore at the eyes and throat.
"It is a new Nakba," said Issa Ahmad Baghdad, 71, referring to the expulsion of 700,000 Palestinians in 1948 after the creation of Israel. "My family are going to Rafat. But we don't know anyone there. We don't know what to tell the children."
Satellite images reveal how northern Gaza has been impacted by weeks of Israeli bombardments on the besieged Palestinian territory.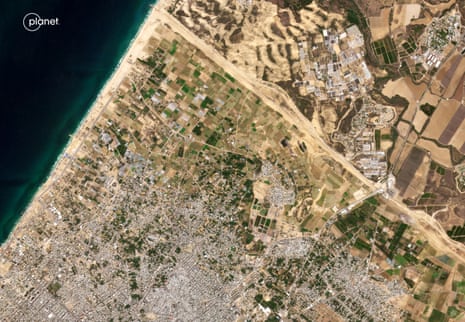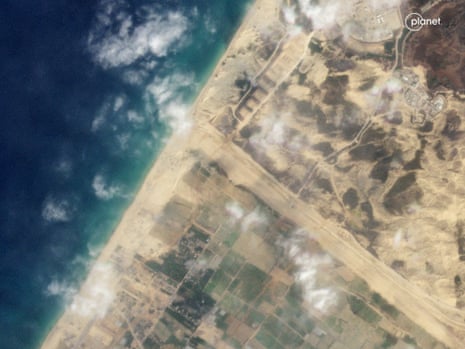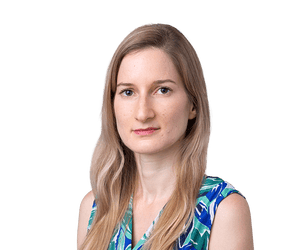 Lili Bayer
"Even wars have rules," Janez Lenarčič, the EU's commissioner for crisis management, wrote on X, posting a video underlining that "these rules are not optional" and "civilians and civilian infrastructure must be protected."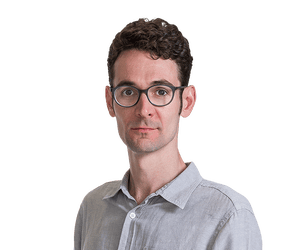 Tom Phillips
Bolivia's leftwing government has announced it will cut ties with Israel as a result of alleged war crimes and human rights abuses it said were being committed in the Gaza Strip.
The decision was announced at a press conference on Tuesday afternoon by María Nela Prada, a minister in president Luis Arce's administration.
"We demand an end to the attacks on the Gaza Strip which have so far claimed thousands of civilian lives and caused the forced displacement of Palestinians," the minister told reporters in her country's de facto capital La Paz.
The move comes after former president Evo Morales demanded his country sever ties with Israel because of the "horrific situation facing the Palestinian people". Writing on Twitter earlier this month, Morales demanded Israel be classified as a "terrorist state" and for Benjamin Netanyahu and "his accomplices" be denounced to the international criminal court for genocide and war crimes.
Bolivia is not the first South American country to express anger at Israel's reaction to Hamas's 7 October attacks.
Colombia's leftwing president, Gustavo Petro, recently likened Israel's actions to those of Adolf Hitler's Nazis, drawing a rebuke from Israel's foreign ministry which accused him of putting Jewish lives in danger and encouraging "the horrific acts of Hamas terrorists" with his "hostile and antisemitic statements".
Summary of the day so far
It's nearly 10.30pm in Gaza City and Tel Aviv. Here's where things stand:
Israeli airstrikes have destroyed apartment blocks and killed dozens of people at a refugee camp in northern Gaza. At least six airstrikes hit residential areas in the Jabalia refugee camp on Gaza City's outskirts on Tuesday, killing more than 50 people and injuring about 150 people, Hamas officials said.

The Israeli military said it had targeted the camp to kill Ibrahim Biari – a key Hamas commander linked to the group's 7 October attack on Israel who, it said, had taken over civilian buildings in Gaza City with his fighters.
The Israel Defence Forces and Hamas reported fresh clashes, especially around Gaza City, where Israeli tanks and infantry targeted tunnel entrances and rocket launch positions. Hamas fighters responded with machine guns and missiles. The IDF said they struck about 300 targets since Monday, hitting Hamas military compounds and killing "numerous" militants, including Nisam Abu Ajina, the commander of Hamas's Beit Lahiya battalion.

The Israeli military is making "significant" achievements during the ground operation in the Gaza Strip but it is also "paying a heavy price", said the defence minister, Yoav Gallant. The Israel Defense Forces (IDF) separately said that two soldiers had been killed and another two seriously wounded during clashes with Hamas militants in the Gaza Strip on Tuesday.

Israeli troops on Tuesday destroyed the family home of Saleh al-Arouri, the exiled commander of Hamas forces in the occupied West Bank. His house, which local residents said was not occupied, was blown up in the early hours of the morning.

Yemen's Iran-backed Houthis said they have launched a "large number" of ballistic missiles and drones towards Israel. The group's military spokesperson, Yahya Saree, said in a televised statement on Tuesday that this operation is the third targeting Israel, with more to come.

At least 8,525 Palestinians, including 3,542 children, have been killed in bombardments in Gaza, according to Hamas health ministry figures issued before the strikes on Jabalia. Gaza has become "a graveyard for thousands of children," a Unicef spokesperson said.

The conflict has claimed the lives of 67 workers from the UN Palestinian refugee agency (UNRWA), complicating efforts to run 150 shelters that are overwhelmed with more than 670,000 displaced people. About 8,000 people are sheltering at – and clogging – a logistics base at Rafah. Even so the agency delivered hundreds of tonnes of flour to 50 Gaza bakeries, helping to lower bread prices.

The UN's secretary general, António Guterres, reiterated his call for an immediate ceasefire and urged all sides to respect international humanitarian law. He said he was "dismayed by reports that two-thirds of those who have been killed are women and children."

Benjamin Netanyahu's government has ruled out a ceasefire and said the campaign to eradicate Hamas could last months. Israeli forces sought to avoid civilian casualties and encouraged civilians to relocate to "protected areas" in the south where they could receive food, water and medicine, said Tzachi Hanegbi, Israel's national security adviser.

The Rafah border crossing will be opened on Wednesday for a number of injured Palestinians to complete their treatment in Egyptian hospitals, according to reports. 81 Gazans with serious injuries will enter Egypt to receive treatment, the General Authority for Crossings and Borders in Gaza said.

A World Health Organization (WHO) official said a "public health catastrophe" was imminent in Gaza amid overcrowding, mass displacement and damage to water and sanitation infrastructure. At the same press briefing, a spokesperson for the UN children's agency warned of the risk of infant deaths due to dehydration with just 5% of normal water supplies available.

Hamas's armed wing said on Tuesday that it would release a number of the foreign hostages in its captivity "in the next few days". The Israeli military has raised the number of hostages it says are confirmed to be being held in Gaza by Hamas to 240. Hamas has so far released four hostages back to Israel.

The head of Israel's national security council has said that he does not see a deal for the release of hostages being close. Tzachi Hanegbi also said that "the day after the war is not close" and that Hamas "must cease to exist".

Bolivia has broken diplomatic ties with Israel due to its attacks on Gaza. The Bolivian government accused Israel of committing crimes against humanity, when providing reasoning for why its severing diplomatic ties.

The director of the New York office of the UN high commissioner for human rights has resigned from his post, protesting that the UN is "failing" in its duty to prevent what he categorizes as genocide of Palestinian civilians in Gaza under Israeli bombardment and citing the US, UK and much of Europe as "wholly complicit in the horrific assault".

The attack by Hamas on Israel on 7 October will inspire the most significant terror threat to the US since the rise of Islamic State (IS) nearly a decade ago, FBI director Christopher Wray said at a congressional hearing in Washington on Tuesday.

Hundreds of protesters have filled Liverpool St station in London to call for solidarity with Palestinians and an end to Israel's bombardment and invasion of Gaza.

Russia has detained more than 80 people in connection with the antisemitic rioting on Sunday in which hundreds of young men stormed an international airport in Dagestan to stop Jews from disembarking from a flight from Tel Aviv.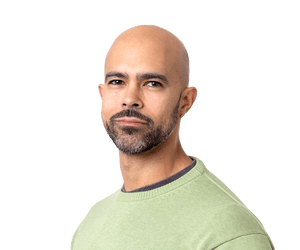 Damien Gayle
Hundreds of protesters have filled Liverpool St station in London to call for solidarity with Palestinians and an end to Israel's bombardment and invasion of Gaza.
According to a witness, at 5.45pm protesters waiting in the station sat down on its concourse and began waving Palestinian flags and chanting: "Free, free Palestine", "Ceasefire now" and "From the river to the sea, Palestine will be free."
Others hung banners from mezzanine levels surrounding the concourse, with messages including: "Ceasefire now" and "Boycott, divest, sanctions".
The witness the Guardian spoke to estimated that about 700 activists took part in the initial sit down protest, but added that their numbers were boosted by commuters joining with chants as they passed through the station on their way home.
Protesters listened to speeches about the crisis in Gaza from representatives of the Palestinian Youth Movement, Na'Amod, No More Exclusions, Sisters Uncut and International Jewish Anti-Zionist Network
Sisters Uncut, a direct action protest group, claimed credit for organising the protest. In a statement sent to the Guardian, Sisters Uncut said:
"The protest follows the continued refusal of UK politicians to call for a ceasefire in Palestine and their continued support of Israel's aggressions on Palestine.
"Following Israeli PM Benjamin Netanyahu's calls for 'a time for war' and Keir Starmer's validation of Israel's violent occupation, the group calls for there to be a ceasefire now and for the UK to end its arms exports to Israel, in the same way apartheid South Africa was isolated. The group is also urging Keir Starmer and the UK Government to represent the demands of the 500,000+ people taking to the streets every weekend."
The Guardian has contacted the British transport police for comment.
Jordan's foreign ministry has condemned Israel's airstrike on a refugee camp, saying the attack contradicts human and moral values as well as international humanitarian law.
Here is the statement from Jordan's foreign ministry posted to X, formerly known as Twitter, CNN reports.
Jordan's Foreign Ministry condemns in the strongest terms the Israeli aggression that targeted the Jabalya camp in the Gaza Strip this evening, holding Israel, the occupying power responsible for this dangerous development … [The Jordanian Foreign Ministry] affirmed the Kingdom's strong rejection and condemnation of this act, which contradicts all human and moral values and the rules of international humanitarian law.
Bolivia breaks diplomatic ties with Israel
Bolivia has broken diplomatic ties with Israel, Reuters reports.
The Bolivian government announced in a press conference on Tuesday that it would be severing its diplomatic ties with Israel once again, due to Israel's attacks on Gaza.
The Bolivian government accused Israel of committing crimes against humanity, when providing reasoning for why its severing diplomatic ties.
In 2009, Bolivia broke its diplomatic ties with Israel after Israel launched offensives in Gaza.
The two countries renewed their relations a decade later, in 2020.
An Israeli airstrike on a refugee camp in northern Gaza has killed and injured hundreds of people, the Washington Post reports, citing the Gaza health ministry.
Israel has claimed that an airstrike on Tuesday killed a top Hamas commander.
But Gaza's health ministry has said that the attack on the Jabalia refugee camp in nothern Gaza killed hundreds of people.
Exact figures on the number of people who were killed or wounded is still being calculated as rescue efforts continue.
The hospital where injured people are being taken to is reportedly running out of fuel, the Independent reports.
81 Palestinians with serious injuries in Gaza will enter Egypt to receive treatment, the General Authority for Crossings and Borders in Gaza said.
Egyptian authorities confirmed to Gazan authorities that 81 severely wounded people will be allowed to enter the country, Reuters reported.
The figure comes after Egyptian medical and security sources said that the Rafah border crossing would be opened for a number of injured Palestinians completing treatment in Egyptian hospitals, Reuters reported earlier.