At the beginning of the year, I wrote a bullish article on the Amplify CWP Enhanced Dividend Income ETF (NYSEARCA:DIVO), noting the fund had a strong history of returns and was paying an attractive 4.8% distribution yield. So far, my recommendation has not panned out, as the DIVO ETF has delivered -2% total returns, lagging the S&P 500 (Figure 1).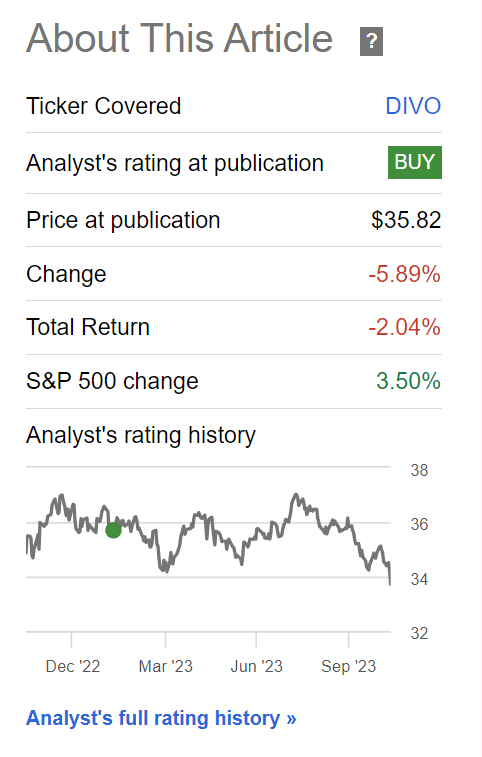 After almost a year of poor performance, should investors bail on the DIVO ETF, or hold on for better days ahead?
To answer this question, investors must first ask why they bought into the DIVO ETF in the first place. Were we performance chasing, as the DIVO ETF had outperformed the S&P 500 Index by over 16% in 2022, or did they genuinely believe in the fund's strategy?
Brief Fund Overview
The Amplify CWP Enhanced Dividend Income Fund is an actively managed ETF that gives investors exposure to high quality large-cap companies. DIVO's strategy is to invest in a concentrated portfolio of 20-25 blue-chip stocks with a history of earnings and dividend growth.
DIVO's stock selection methodology begins with a screen for companies with strong historical dividend and earnings growth. Then, the manager decides what sectors to over- or underweight based on their macro outlook. Finally, the manager tactically writes call options on individual stocks to generate income (Figure 2).
DIVO's goal is to generate long-term capital appreciation from its core portfolio while writing call options to supplement portfolio income so the fund can pay an attractive distribution yield (Figure 3).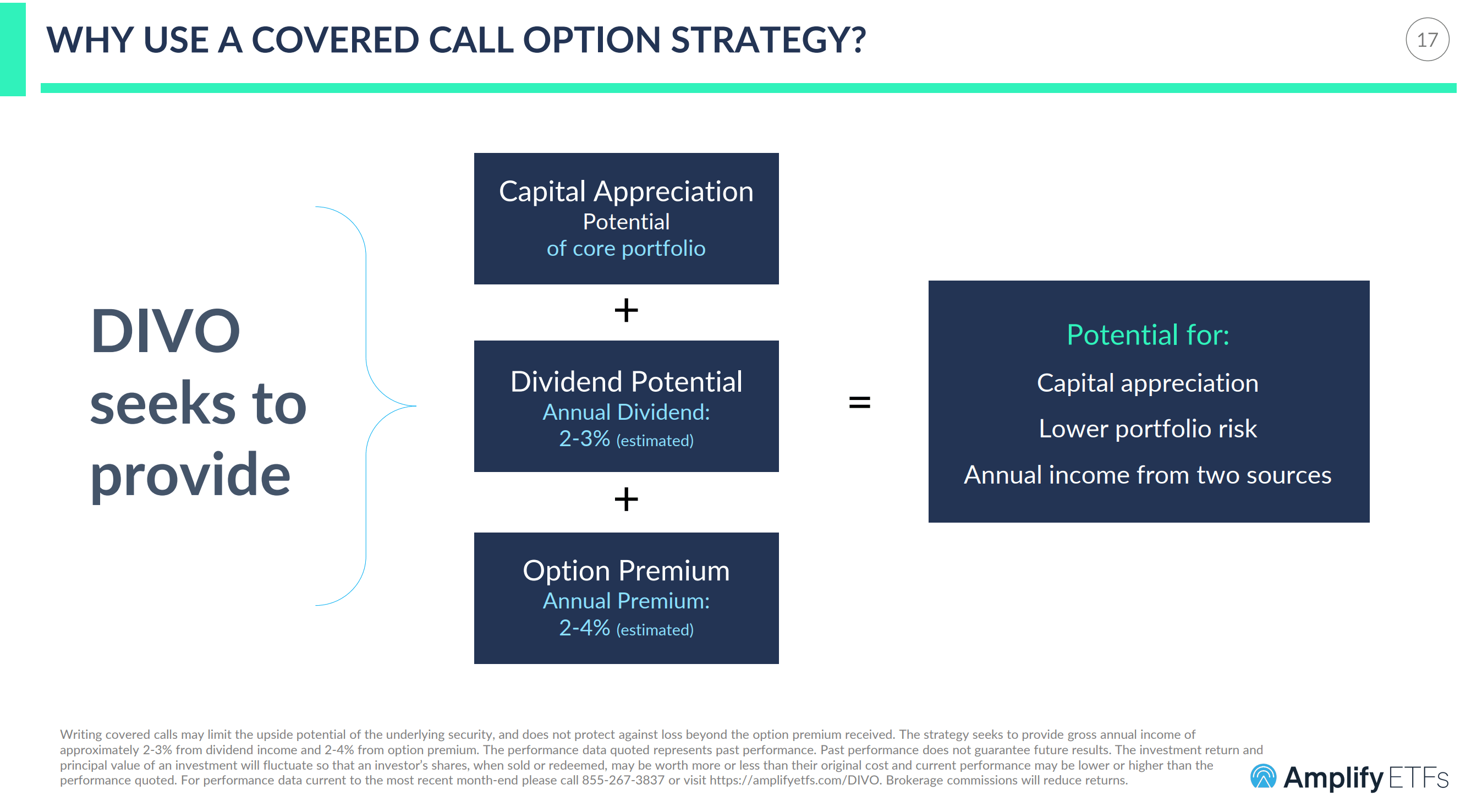 Looking at DIVO's portfolio in detail, we can see that the DIVO ETF holds mostly blue chip stocks like UnitedHealth (UNH), Microsoft (MSFT), Procter & Gamble (PG) (Figure 4).
Overall, DIVO's portfolio sector allocation is broadly diversified but overweight Financials (17% vs. 13%), Consumer Staples (14% vs. 7%), Energy (13% vs. 5%) and Industrials (11% vs. 8%) compared to the market, as represented by the SPDR S&P 500 Trust ETF (SPY). It is underweight Technology (14% vs. 28%) and Communication Services (2% vs. 9%) (Figure 5 and 6).
The best way to understand DIVO's underperformance so far in 2023 is to compare DIVO's 2023 returns (Figure 7) to that of the Invesco S&P 500 Equal Weight ETF (RSP) (Figure 8).
On a YTD basis, DIVO's -2.1% return to October 27, 2023 is very similar to RSP's -4.1% over the same time frame. So compared to an equal weighted basket of large cap stocks, DIVO did not underperform.
However, compared to the SPY ETF, DIVO has lagged by over 10% in 2023 (Figure 9).
Extremely Concentrated Markets Led By 'Magnificent 7'
This is because 2023 market returns have been extremely concentrated in a basket of stocks called the 'Magnificent 7'. Collectively, the Magnificent 7 have contributed over 100% of the market's YTD gains of 9% (Figure 10).
Outside of these 7 stocks (Microsoft, Apple, Amazon, Alphabet, Meta, Nvidia, Tesla), equity markets have just been treading water.
Unfortunately for DIVO unitholders, aside from Microsoft and Apple, DIVO does not hold these Magnificent 7 stocks. This is probably because the Magnificent 7 stocks trade at elevated valuation multiples that are hard to justify for fundamental investors like DIVO. Hence the DIVO ETF has been flat this year, similar to the RSP ETF.
History Suggest This Too Shall Pass
Historically, the current level of market concentration, with the top 10 stocks in the market amounting to over 32% of the S&P 500's market cap, is rare. In the modern era, the only analog is the early 2000 dot-com bubble (Figure 11).
If history is any guide, the current 'AI bubble' leading to extreme valuations on the Magnificent 7 stocks will eventually deflate and markets will return to their senses.
For example, NVDA, the poster child of the AI investment theme, is trading at an incredible 18x Fwd EV/Sales (Figure 12)!
Investors are reminded of this quote from the former CEO of Sun Microsystems ("SUNW"), one of the darlings of the dot-com bubble:
"…2 years ago we were selling at 10 times revenues when we were at $64. At 10 times revenues, to give you a 10-year payback, I have to pay you 100% of revenues for 10 straight years in dividends. That assumes I can get that by my shareholders. That assumes I have zero cost of goods sold, which is very hard for a computer company. That assumes zero expenses, which is really hard with 39,000 employees. That assumes I pay no taxes, which is very hard. And that assumes you pay no taxes on your dividends, which is kind of illegal. And that assumes with zero R&D for the next 10 years, I can maintain the current revenue run rate. Now, having done that, would any of you like to buy my stock at $64? Do you realize how ridiculous those basic assumptions are? You don't need any transparency. You don't need any footnotes. What were you thinking?"
While AI and Nvidia's GPUs will most likely change the way business is done, similar to how the Internet changed the world in 2000, paying 18x sales suggest the Nvidia 'AI bubble' is even more egregious than the dot-com bubble in 2000.
Risks To DIVO
The biggest downside risk to DIVO shares is if the economy enters a recession, then all equities will likely suffer. While DIVO was able to mostly avoid drawdowns in 2022 due to its high quality stock picks, in a recession, even high quality companies like Visa (V) and Walmart (WMT) will decline.
On the upside, last week's GDP report showed the U.S. economy grew at a scorching 4.9% annual rate in Q3, so there are no imminent signs of a recession.
Another risk is that the current market environment where returns are led by the Magnificent 7 stocks may continue for some time, so DIVO may continue to lag. However, if owning a high quality basket of blue chip stocks leads to performance lag, then so be it; better safe than sorry.
Conclusion
In conclusion, DIVO's performance has lagged the S&P 500 so far in 2023 because market returns have been concentrated in a narrow basket of growth stocks. Outside of this basket, equity markets have been treading water, similar to DIVO's returns.
While one cannot predict when this market environment will change, history suggests valuing AI stocks at over 10x Fwd Sales is unsustainable and prone to a crash. If and when the 'AI bubble' deflates, DIVO's portfolio of blue-chip, fundamentally chosen stocks should once again outperform. I believe investors should stay the course with DIVO and maintain my buy rating.