Key events
20 min: Nothing comes of the free kick. On Sky, Gary Neville notes that nobody more senior than Hannibal has gone over to the young player to calm him down.
19 min: Willock drives hard down the middle and is brought crashing to the floor by Casemiro, who goes into the book. A free kick 30 yards out in a central position. More importantly, that's two of Manchester United's midfield trio already tottering along the disciplinary tightrope (a much better song than Old Trafford favourite This Is The One, incidentally).
17 min: Hannibal comes clattering into Krafth from behind and wants to watch himself here. That could easily have been a second yellow. "Another injury!" yelps Slassor. "Can we not just bring everyone off, forfeit the match and come home?"
16 min: … and now Casemiro shoves Willock to the ground, just to the left of centre, 25 yards out. Ritchie curls in, and Lindelof, surrounded by black and white stripes, is forced to concede a corner. Joelinton attempts to leap higher than Maguire but doesn't manage it. Manchester United clear their lines.
14 min: Longstaff is in the process of heading the ball in the centre circle when he's barged in mid-air by Hannibal. A pointless challenge, and one that earns the young Manchester United midfielder a yellow card. He'll miss the next round if United get through.
13 min: The first shot in anger. Martial robs Krafth down the left and finds Garnacho, who cuts back for Casemiro. Ping! The drive from edge of the box is an easy snaffle for Dubravka … who played for Manchester United in this competition a couple of times last season.
12 min: Manchester United are pinging it around nicely. Newcastle are struggling to keep hold of the ball whenever they get hold of it. Both sets of fans making plenty of evening-pints-fuelled noise.
10 min: Casemiro finds Antony down the right with a glorious long diagonal ball, but Hall makes sure there's no route to the penalty box. A fine pass by Manchester United's stand-in captain, though.
9 min: A reminder that this game will go straight to penalties if it ends 0-0 after 90 minutes. No extra time. There's no VAR either, so given that everyone wants it gone, no doubt someone tonight will end up missing it. You know how these things usually pan out.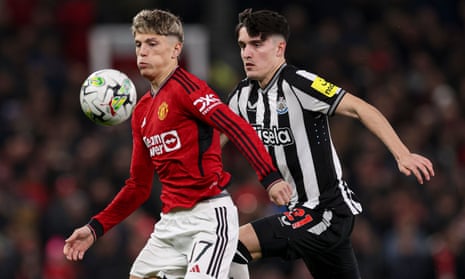 7 min: Joelinton sticks out an arm to tug back Reguilon and should really get booked, but nobody knows anything any more, so he doesn't.
6 min: Mount spins elegantly in the centre circle to start a Manchester United attack. It breaks down quickly enough, but that earned the midfielder a roar of encouragement.
5 min: Poor Targett makes his way gingerly towards the tunnel, shaking his head slowly. Such a shame … and there's to be no hard-earned rest for Almiron, not tonight.
4 min: Martial was near Targett but didn't touch him. Targett gets up and traipses off sadly. A chance to impress gone in 90 seconds. Almiron will come on in his place.
2 min: Newcastle, on the front foot and with 9,000 travelling fans making the most noise right now, press the hosts hard. Targett stretches for a loose ball in midfield and falls to the ground, clutching his hamstring. He hammers the ground in frustration while prone. This doesn't look promising at all.
Manchester United get the ball rolling. Newcastle are kicking towards the Stretford End in this first half.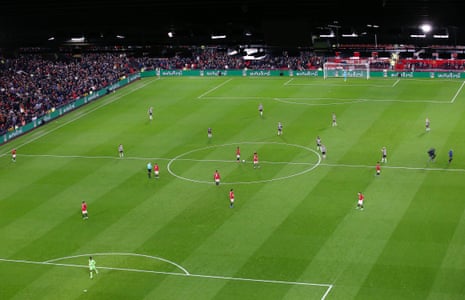 The teams are out! Manchester United wear their famous red; Newcastle run out in their iconic black and white stripes. The only way to improve this classic aesthetic? Get Sharp Electronics and Newcastle Brown Ale back as sponsors. Well, you could ditch the sponsors altogether of course, but there's no point asking to lasso the moon. The words "Football Club" back on the Manchester United badge? I'm even boring myself now. Never mind! We'll be off in a couple of minutes.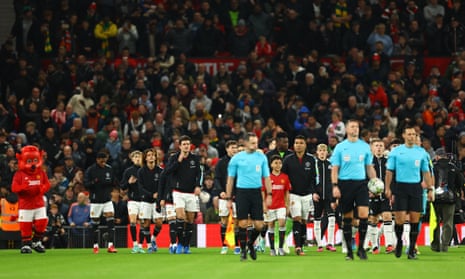 Eddie Howe has a chat with Sky. "We've had two really tough draws in this competition and we look forward to the challenge … we have to be ourselves and focus on us … we've made changes to our team and utilised our squad … I'm hopeful we'll give a really good account of ourselves … I believe in the players we've picked … it's a really tough game tonight … we need to be at our best, that's for sure … it's an opportunity for players who have been desperate to play to show how good they are … it's an opportunity to protect one or two players in our demanding schedule … it's a mixture of those things really."
Erik ten Hag talks to Sky. "We always line up a team that is strong enough … we have a good squad … we can choose … these players deserve to play … you cannot feel sorry for yourself … top football is tough, hard, you have to deal with it … you moan for 24 hours then it's another challenge … take it … you can't change it any more but you can change the future … the fans deserve (a good performance) … they are always behind us … we have to match high standards … we know what to do and are very eager to give a good performance and get into the next round … we have a strong bench … we are not playing with 11 … we have a squad."
Harry Maguire speaks to Sky Sports. "Obviously Sunday was really disappointing, a bad performance, a bad result … there's no better chance to put it right than in front of our fans at Old Trafford … every round is a chance to progress … we're here to defend (the cup) again … we're looking forward to it … you lose a derby, it's disappointing, the lads aren't happy … we know we need to improve … we've moved on and know we have to put things right tonight."
Manchester United make seven changes to the team sent out for the 3-0 defeat to City. Mason Mount, Anthony Martial, Casemiro, Antony, Alejandro Garnacho, Sergio Reguilon and Hannibal Mejbri take the places of Bruno Fernandes, Marcus Rashford, Christian Eriksen, Jonny Evans, Sofyan Amrabat, Scott McTominay and Rasmus Hojlund, all of whom drop to the bench. Only Andre Onana, Victor Lindelof, Harry Maguire and Diogo Dalot keep their places.
Newcastle go one better with eight changes from the XI that started the 2-2 draw at Wolves. Martin Dubravka, Valentino Livramento, Emil Krafth, Paul Dummett, Matt Targett, Lewis Hall, Joe Willock and Matt Ritchie step up; Kieran Trippier, Jamaal Lascelles, Dan Burn, Bruno Guimaraes, Callum Wilson and Miguel Almiron drop to the bench, while Nick Pope and Fabian Schar miss out altogether. Only Joelinton, Anthony Gordon and captain-for-the-day Sean Longstaff keep their spots.
Manchester United: Onana, Dalot, Lindelof, Maguire, Reguilon, Mejbri, Casemiro, Antony, Mount, Garnacho, Martial.
Subs: Bayindir, Amrabat, Bruno Fernandes, Rashford, Hojlund, Eriksen, Wan-Bissaka, Evans, McTominay.
Newcastle United: Dubravka, Dummett, Targett, Krafth, Livramento, Willock, Longstaff, Joelinton, Hall, Ritchie, Gordon.
Subs: Trippier, Lascelles, Wilson, Karius, Almiron, Burn, Bruno Guimaraes, Diallo, Parkinson.
Referee: Robert Jones (Merseyside).
Manchester United were abject in the derby on Sunday. They didn't get particularly good notices for their performances against Brentford, Sheffield United and Copenhagen either, and they won all of those matches, which only goes to illustrate the scale of the pickle Erik ten Hag and his men find themselves in right now. The club have made their worst start to a season since the days of Big Ron Atkinson, who ended up getting the boot in late 1986 after a loss in … the League Cup.
Which is not to say Ten Hag will receive his marching orders should he lose this tie tonight. Absolutely not. He did win this competition last season, for a start, so there's plenty of credit in the bank. But with the fanbase restless for many a reason, he could nonetheless do with a positive result to lighten the mood. He'll be pleased to see Newcastle United roll into town, then; the Toon have only won once at Old Trafford since 1972, and that was ten years ago. They've lost on both of their previous visits in the League Cup, once to the tune of 7-2, Gordon Hill netting a hat-trick in 1976. And of course it was Newcastle who were defeated in last season's final. Ten Hag could hardly have hand-picked better bounce-back opponents, right?
Newcastle aren't in the best form themselves, having won just one of their last four matches in all competitions. But when they click, they click: just ask Kylian Mbappé and PSG, Crystal Palace, Aston Villa and Sheffield United. Oh, and Manchester City, who they knocked out in the last round. Eddie Howe and his team will thus take on their hosts in reasonably high spirits. So it is, then, that Newcastle, who haven't won a trophy since 1969, go into this tie relatively unencumbered by pressure; Manchester United, who haven't won a trophy for eight months, threaten to buckle under the weight of the stuff. Funny old game, football. Kick-off is at 8.15pm BST. It's on!