Tom Carroll is recalling the times when it became abundantly apparent that he needed to return to the game he had played since joining Tottenham as an eight-year-old. He spent last season without a club, and seeing the scores roll in on the vidiprinter became difficult. "I would have Soccer Saturday on and I'd be like: 'I don't know if I can watch this,'" the 31-year-old says. "You'd see so many names pop up: 'Yep, played with him, against him.' Then you think: 'Gah, that should still be me.' You look for your old clubs and I'd be like: 'I can't watch this, I'm going to have to take the dog out.'"
So Carroll, the former Tottenham, Aston Villa, Swansea, Queens Park Rangers and Ipswich midfielder, would take Griff, the Welsh terrier he got shortly after signing for Swansea, for a walk near the family home in Hertfordshire. "My norm for Saturdays was matchdays … my missus was probably getting fed up with me because that was when I was my grumpiest," he says, breaking into a sheepish grin of sorts. "Mentally, it was really tough. I could get snappy if I saw a score pop up or someone scored. She would know because sometimes I would just walk out (the house) and clear my mind."
Carroll did not consider the offers he received last season to be the right fit but is back in the old routine now, playing for Exeter and preparing to face Middlesbrough on Tuesday for a spot in the Carabao Cup quarter-finals, after the defeat of top-flight Luton in the previous round. Relaxing more has been something he has made a conscious effort to do.
"In my career I have been a bit of an over-thinker. This year I really wanted to try to enjoy it and everything that comes with it: training, playing, taking the kids to the football, and enjoy being a dad as well. I wish I'd have done it when I was younger. Over the years I've been really self-critical and probably got myself a bit too down at times."
Does that mean he has not enjoyed moments he should? "100%. I think a lot of players would be like that when they look back, because at times it is so hard to enjoy because you're so caught up in the focus on winning. You're just zoned in and then, like that," he says, clicking his fingers, "it's gone and you can't remember anything."
It is all part of the process that led Carroll to here, at Exeter's training ground on the outskirts of Clyst St Mary, discussing his journey from featuring regularly for the Spurs side that finished third in the Premier League under Mauricio Pochettino in 2015-16 – alongside Harry Kane, Kyle Walker, Son Heung-min and Christian Eriksen – to pitching up on trial at the League One club in July. He remains good friends with Kane, his roommate when the pair were on loan at Leyton Orient together as teenagers in 2011 and while on international duty with England Under-21s.
"The last time I saw him play was at Wembley in the Euros," Carroll says. "I'd like to get out to a game in Munich. I'm really proud of what he has done and what he is still doing for club and country. There isn't much he isn't great at – he's a good golfer as well!"
Carroll kept himself ticking over fitness-wise before an invitation from Spurs' academy coaches, Wayne Burnett and Nigel Gibbs, who was assistant manager to Paul Clement at Swansea during Carroll's time there, to train with Tottenham's under-23s allowed him to return to a club environment. And at an elite facility,complete with a putting green and vegetable garden. "They were trying to help me out, but I was like: 'I don't want to be a pain for you guys.' But they knew I'd been in the boys' shoes there so I think it worked well for everybody. It gave me a bit of confidence to say: 'Look, I'm back.'"
Carroll, a softly spoken and polite character, smiles. The biggest upside to his hiatus was it allowed him to spend time with his partner and their young boys, Teddy and Alfie, who are three and one respectively. His eldest has walked out as an Exeter mascot with Carroll. "Hopefully we get to do that a couple of more times together. I wanted them to see me play football, instead of them being like: 'Daddy's off to football but I've never seen him kick a ball.' I knew I had to have a go and maybe do it for them as well."
Did he consider quitting altogether? "My last four years injury-wise have not been the best," he says, alluding to hip and knee injuries during stop-start spells at Villa, Swansea and Ipswich. "I was thinking: 'What's wrong with me? Why can't I just stay fit here?' That becomes tough. I was training every day at Tottenham (with the under-23s) and feeling really good. Training is different to games but it was then when I was like: 'I can still do this.' After a year out, you have to start lower than where you probably want to go. I'm 31 but if I can play a lot of games it is a chance to try to build again."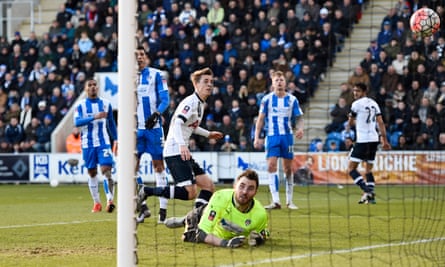 Exeter have not tasted victory since embarrassing Luton but from a personal perspective Carroll is refreshed and the buzz, he says, is back. "This year I've just tried to have a little think to myself: 'What's the worst that can happen?'" he says. "'You're doing what you love, you're playing football, try to enjoy it.' If I play with a smile on my face, I think that is when I am playing my best."