Look for Strength in a Sea of Red
Because 75% of stocks tend to follow the market direction, it's not a surprise that there have been several earnings' "landmines" this quarter as US equities have pulled back. For example, leaders in several sectors gapped down following their earnings reports, including Tesla (TSLA), Caterpillar (CAT), and Alphabet (GOOGL). While an earnings season like the current one can be dangerous to those investors who are overexposed, it can also be telling. Stocks that reported better-than-expected results, bucked the market trend, and gapped up in price following earnings should be closely monitored.
An Object in Motion Will Stay in Motion
Post-earnings drift refers to the tendency of a stock's price to continue moving in the same direction as the initial price reaction. When a company reports stronger than anticipated results, institutional investors pile into shares. However, because these deep-pocketed investors tend to accumulate shares over time, often the initial gap in price is just the beginning. In other words, powerful earnings gaps lead to big trends. 
Image Source: Zacks Investment Research
Thus far this earnings season 3 big earnings winners have emerged that are poised to benefit from this phenomenon, including:
Pinterest (PINS)
Pinterest is a social media platform that allows users to discover, save, and share visual ideas and content by pinning images and videos to personalized collections called boards. Pinterest generates revenues by delivering ads on its website and mobile applications.
Amazon Deal is a Game Changer
Pinterest reported quarterly EPS that grew a healthy 155% year-over-year, beating Zacks Consensus Estimates by 33%.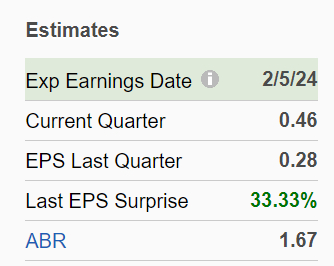 Image Source: Zacks Investment Research
Earlier this year, Pinterest inked a multiyear ads partnership with Amazon. On Pinterest'searnings call the CEO touted the partnership by saying
"..we see really good progress. We're testing, learning, iterating and we're focused on creating a really great relevant user experience and valuable merchant experience. And we're really pleased with what we're seeing on that front. That's the biggest breakthrough and this is demonstrating the increase in relevancy from bringing on third-party demand. As I noted in the prior question, 50% increase in relevance on search and 100% increase in relevance on related items, I that just bodes really well for where we can go with that. So those are the biggest things to solve for. As we've been calling out, it is a multi-quarter implementation with the most meaningful revenue to hit early in '24."
Investors rewarded the stock by sending shares soaring by 19% on volume 557% above the norm. Such robust price and volume are indicative of heavy institutional accumulation.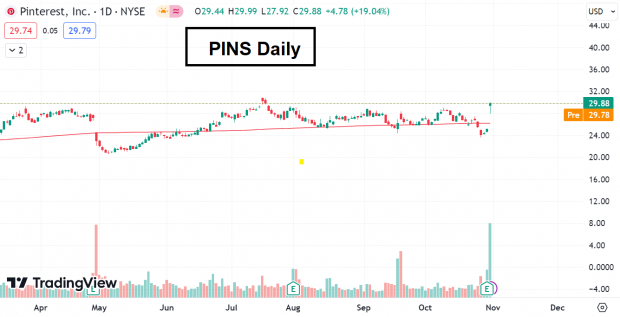 Image Source: TradingView
Netflix (NFLX)
After suffering four straight quarters with lackluster earnings growth, Netflix, the king of streaming, is back on track. More importantly than earnings growth, Netflix is gaining subscribers again – in a big way.
Password Sharing and Ads Drive NFLX Turnaround
In the third quarter, Netflix smashed subscriber expectations by adding 8.76 million global subscribers – well above the 5.49 million the street was expecting. A crackdown in password sharing spurred on the subscriber growth. Meanwhile, a new ad-supported tier of its streaming service helped profitability. After its report last week, NFLX shares rocketed 16% on massive volume. Since then, shares have digested gains in a tight consolidation – proof that even with their significant profits, investors are unwilling to part with shares.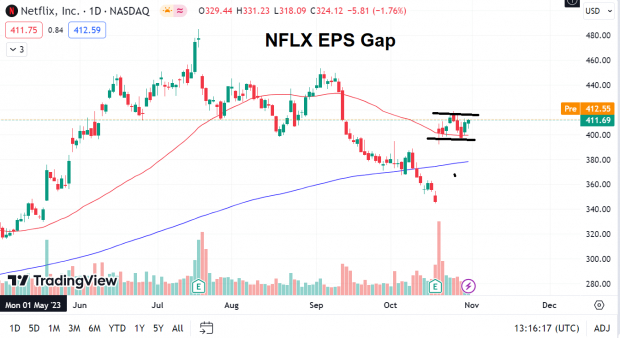 Image Source: TradingView
Arista Networks (ANET)
Yesterday, Arista Networks was the biggest gainer on the S&P 500 Index after investors applauded their third-quarter earnings that smashed expectations on the top and bottom lines.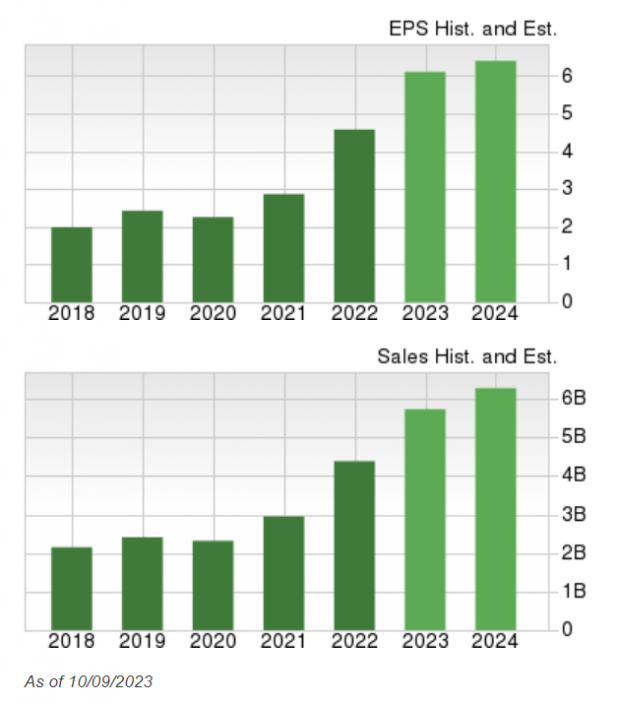 Image Source: Zacks Investment Research
Selling the "Picks and Shovels" to the AI Gold Rush
"During the Gold Rush, most would-be miners lost money, but people who sold them picks, shovels, tents and blue-jeans (Levi Strauss) mad a nice profit." ~ Peter Lynch
At this juncture, the AI revolution is inevitable. However, the winners and losers have yet to be determined. That's not an issue for Arista Networks sells computer switches that speed up communications in internet data centers. The math is simple. AI requires data centers, and data centers require ANET's switches. Despite worries about less revenue from ANET client Meta Platforms (META), shares emerged from a double-bottom base structure yesterday.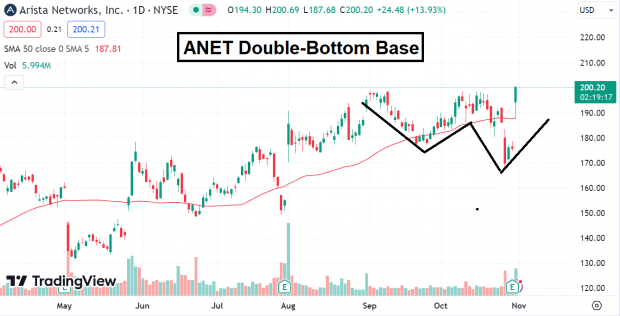 Image Source: TradingView
7 Best Stocks for the Next 30 Days
Just released: Experts distill 7 elite stocks from the current list of 220 Zacks Rank #1 Strong Buys. They deem these tickers "Most Likely for Early Price Pops."
Since 1988, the full list has beaten the market more than 2X over with an average gain of +24.3% per year. So be sure to give these hand-picked 7 your immediate attention. 
Want the latest recommendations from Zacks Investment Research? Today, you can download 7 Best Stocks for the Next 30 Days. Click to get this free report
Caterpillar Inc. (CAT) : Free Stock Analysis Report
Netflix, Inc. (NFLX) : Free Stock Analysis Report
Tesla, Inc. (TSLA) : Free Stock Analysis Report
Alphabet Inc. (GOOGL) : Free Stock Analysis Report
Arista Networks, Inc. (ANET) : Free Stock Analysis Report
Pinterest, Inc. (PINS) : Free Stock Analysis Report
Meta Platforms, Inc. (META) : Free Stock Analysis Report
To read this article on Zacks.com click here.
The views and opinions expressed herein are the views and opinions of the author and do not necessarily reflect those of Nasdaq, Inc.