Morgan Stanley launched a debt offering for $6 billion in bonds in four tranches on Monday, according to a market source, in the latest bank to wade into the capital markets.
The notes were launched in strong demand as part of a busy calendar of corporate debt deals ahead of the Fed's latest meeting on Wednesday.
Of the two types of debt in the package, demand ran stronger for the fixed-rate notes with price talk well above 6% instead of floating-rate notes that would re-price if interest rates move lower.
In its first tranche, Morgan Stanley
MS,
+1.50%
is offering $1.65 billion of three-year fixed rate notes, with an expected rating of Aa3/A+/AA- with a minimum investment of $250,000 backed by the bank's parent company, also known as bank notes.
It's also offering $350 million in three-year floating rate notes with an expected rating of Aa3/A+/AA-, also at the bank level.
The third tranche is comprised of $2 billion in five-year "bullet" fixed-floating rate notes due Nov. 1, 2029, at the broker-dealer level, with a $1,000 minimum, with expected ratings of A1/A-/A+.
The fourth tranche is $2 billion of 11-year non-call 10, also known as a 10-year bullet bond, with a minimum $1,000 investment, issued at the broker-dealer level, with an expected rating of A1/A-/A+.
Morgan Stanley bondholders have been net buyers in the last 10 days ahead of this latest bond offering, as shown by the green bars with shorter maturities. The longer maturities have had more selling in recent days. (See chart below)
The deal comes as Morgan Stanley faces maturity dates on about $25 billion in debt in 2024. (See chart below).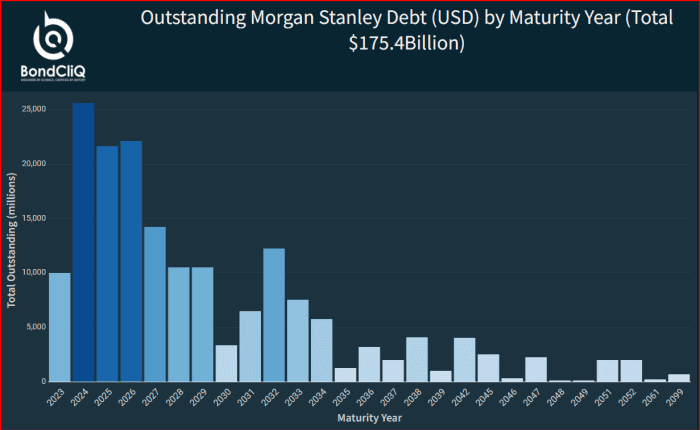 Morgan Stanley's stock was up 1.2% on Monday.
Last week, Truist Financial Corp.
TFC,
+2.03%
raised $1.75 billion as banks wade into the bond market to raise capital.