Through increasing geopolitical tensions and a tightening macroeconomic environment, Andy Jassy earned his stripes as Amazon (NASDAQ:AMZN) crushed Q3 2023 earnings. I have been a long-term AMZN shareholder and was extremely critical of their operational results during previous periods. On Thursday, 10/26, AMZN delivered a top and bottom line beat as they posted $0.94 in EPS and $143.1 billion in revenue for the Q3 earnings after the bell. On Friday, 10/27, shares of AMZN jumped 6.65% while the S&P 500 declined -0.48%. Q3 was a cumulation of everything working as AMZN delivered on operational excellence. As we come closer to a Fed pivot, I feel AMZN is positioned to make new highs during the easing cycle as the cost of capital becomes cheaper and we enter a period of expansion. Things could be choppy going into 2024, but I think AMZN is a long-term buy, as this was the quarter that illustrated their long-term potential.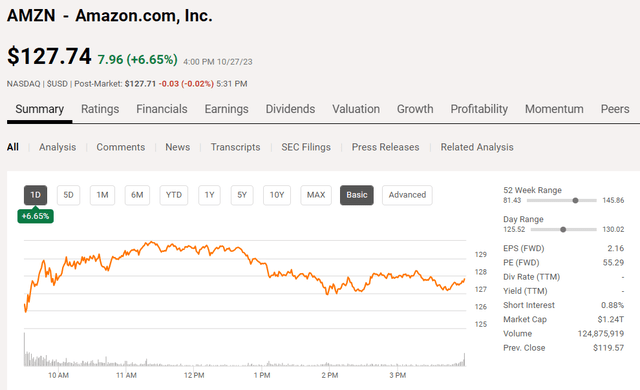 Following up on my previous Amazon article
On 9/6/23, I wrote an article on AMZN (can be read here) and discussed why I was previously worried about why I was concerned about AMZN, what made me become bullish again, and how the macroeconomic environment would benefit AMZN. After they released Q3 earnings, I wanted to follow up on this idea as AMZN proved why they shouldn't be written off. Everything is coming full circle, and all of the capital invested in CapEx is solidifying AMZN's future. This is an exciting time to be an AMZN shareholder, as there is a path back to all-time highs.

Amazon came out swinging in Q3, and this is what I have been waiting for
If you have read my previous articles on AMZN (can be found here), I was neutral in the spring and summer of 2022 and again in February of 2023. My investment case started to change as I became less convinced that AMZN could control costs, increase margins, and get away from AWS representing most or all of its operating income. I was also concerned about AMZN's ability to generate cash from its operations, as its free cash flow (FCF) was negative for a period of time. Things started to improve in Q1 of 2023, then AMZN built on the momentum in Q2, and in Q3, they knocked it out of the park. Some investors may not realize how strong of a quarter this is based on what the macroeconomic environment looks like, and if AMZN is able to do this with rates where they are, I can't wait to see what they deliver when the Fed actually pivots.
To sum up the quarter before diving into what is making me super bullish again, AMZN saw its net sales increase 13% to $143.1 billion in Q3. The North American segment grew 11% YoY while the International increased 16% YoY. In cloud, AWS remained strong as it saw 12% YoY growth, which helped drive AMZN's operating income to $11.2 billion. In addition to the numbers, AMZN is turning into an Artificial Intelligence (AI) play. AMZN launched an AI–powered feature that lets shoppers determine what other customers say about a product before reading through reviews. AMZN introduced generative AI capabilities to help sellers create product listings and incorporated conversational AI capabilities into Alexia. AMZN also announced AI-driven commitments and expansions from AWS customers, including BMW Group, Occidental Petroleum (OXY), and PWC, as AMZN entered into a strategic collaboration to advance generative AI with Anthropic. AI isn't going away, and AMZN is finding ways to leverage AI into their AWS cloud infrastructure and to benefit both buyers and sellers on the Amazon Marketplace. AMZN is going to make its products better and more powerful through AI, and if AI becomes the next technological revolution the way the cloud was, shares of AMZN could ultimately benefit.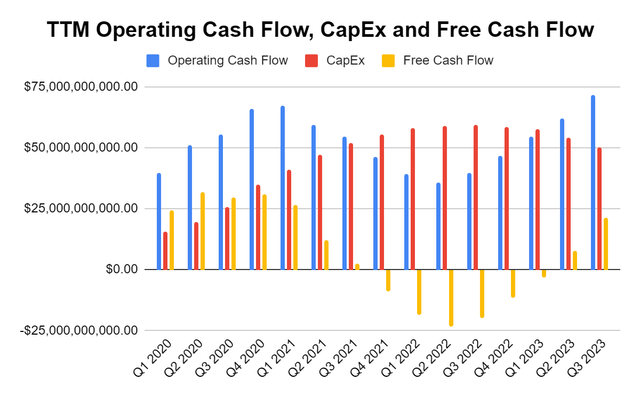 From a numbers standpoint, AMZN is eradicating my concerns, and I am excited for the future. What were once my two largest concerns have turned into operational strengths for AMZN. My first concern was AMZN's ability to generate FCF. There was a period from Q4 2021 through Q1 2023 where AMZN's FCF on a trailing twelve-month (TTM) basis was negative. Above, I have mapped out AMZN's operating cash flow, CapEx, and FCF on a TTM basis since Q1 of 2020. From Q1 of 2021 to Q2 of 2022, AMZN's cash from operations declined by $31.64 billion, while CapEx increased by $18.26 billion on a TTM basis. In Q2 of 2022, AMZN's FCF was -$23.49 billion as they were allocating a tremendous amount of capital toward CapEx without the results to show from it. Ultimately, their capital-intensive investments paid off, and AMZN has grown its cash from operations and FCF QoQ on a TTM basis since Q2 2022. Over the past 5 quarters, AMZN's cash from operations on a TTM basis has increased by 101% or $36.08 billion, while its FCF grew from -$23.49 billion to $21.43 billion. The other positive aspect is that during a rising rate environment and a still inflationary period, AMZN has seen its CapEx decline over the past 4 quarters on a TTM basis while its cash from operations grows. AMZN may have put itself in a position where CapEx will continue to decline, and the FCF will continue to increase.
The other aspect that I was concerned about was how the operational income was cannibalized by AWS. There was a period from Q4 2021 through Q4 2022 where the North American segment lost money each quarter. After a string of 5 quarters of losses, the North American segment has put together 3 consecutive quarters of YoY top-line growth and QoQ profitability. In Q4 2022, North America lost $240 million and has been profitable since then, with the segment producing $4.31 billion in operating income in Q3 2023.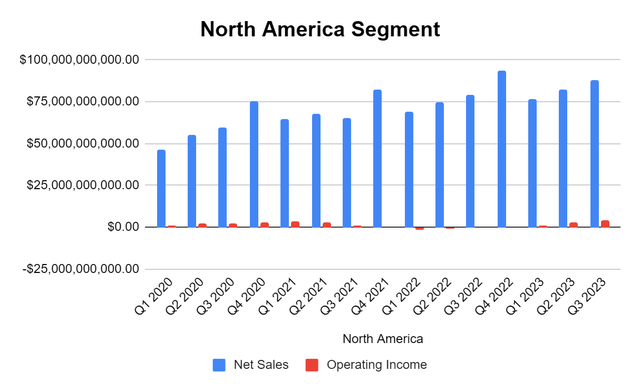 The International Segment is becoming less of a problem. Losses amounted to -$2.47 billion in Q3 of 2022, and there were 6 consecutive quarters where the International Segment lost more than -$1 billion. Since Q3 2022, the losses have improved QoQ, and the International segment almost broke even in Q3 2023 after only losing -$95,000,000.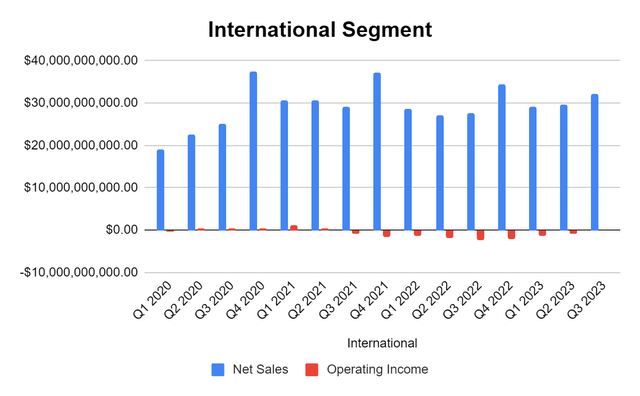 AWS continues to be AMZN's crown jewel, as Q3 was its largest quarter from a revenue and profitability standpoint. AWS grew by 4.15% ($919 million) QoQ while generating an additional 30.03% ($1.61 billion) in operating income. In the TTM AWS has produced $87.93 billion in revenue and operated at a 25.78% margin, generating $22.67 billion in operating income. AWS continues to grow on the top and bottom line, and it's even more impactful as AWS is no longer the only profit center for AMZN.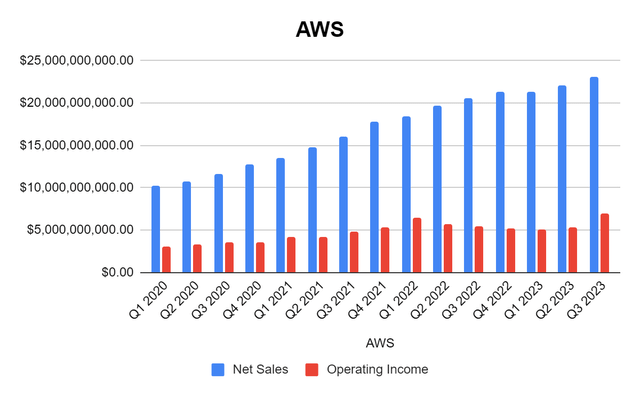 AMZN answered my questions, and I am thrilled with the direction in which their finances are moving. AMZN operated at a 10.93% operating income margin in Q3, and while the majority of their business is a low-margin business, there is still tremendous growth on the horizon. According to the St. Louis Fed E-Commerce sales were only 15.4% of total retail sales in Q2 of 2023 and have yet to exceed 16.5% since Q2 2020. At the end of 2022, McKinsey Digital estimated that roughly $3 trillion of EBITDA value would be up for grabs by 2030 after expanding its methodology throughout the Forbes Global 2000 companies from the US Fortune 500 companies. As the year's progress, AMZN could significantly capture additional business in both retail and cloud, which would drive its top and bottom lines higher. Based on the amount of CapEx they have allocated, I think AMZN has positioned itself uniquely and could have tailwinds that boost their top and bottom lines for years to come.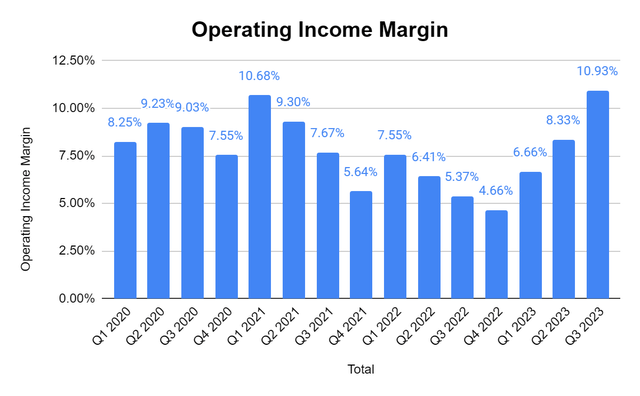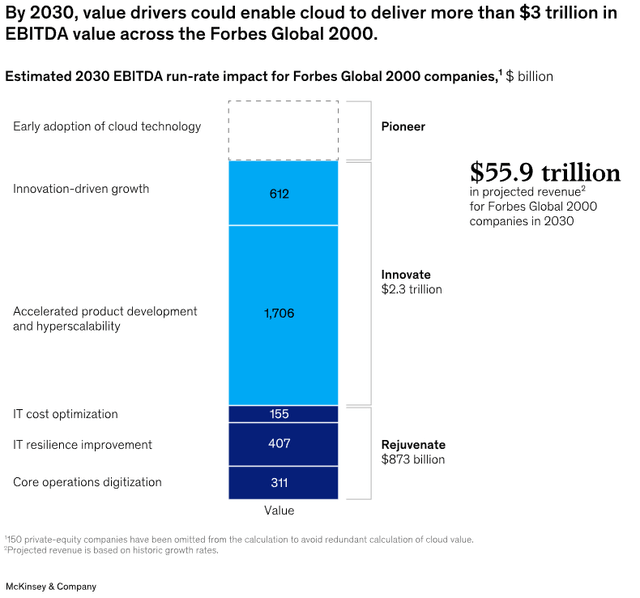 Amazon is looking very interesting based on the macroeconomic environment and its valuation going into 2024
The Fed has pushed rates to the highest they have been since the early 80s. The risk-free rate of return has become more appealing week by week as the current 12-month treasury yields 5.42%, and the 10-year treasury yields 4.85% while the cost of capital continues to increase. Mortgages are at 10-year highs over 7%, while mortgage applications are at 10-year lows. We continue to experience tighter financial conditions, additional geopolitical risks, and diverging growth cycles. Core CPI continues to fall, and it has now reached its lowest level since September 2021. The CME Group Fed Watch Tool is now forecasting an 11.8% chance of a .25 bps increase in rates in November and a 31.4% chance for a .25 bps increase in December. Looking out to the end of 2024, CME Group has the highest conviction that rates will be between 450 – 475 bps and a 63.3% chance rates will be between 4 – 4.75 bps.
Nobody knows what the Fed is going to do, and maybe they increase 25 bps before the year is over. We're headed into an election year, Core CPI continues to fall, and there are signs that price stability is occurring. While Jerome Powell has remained hawkish, there are many indications that the Fed will pivot in 2023. As the Fed pivots, the cost of capital will become reduced, and we could enter into a period of expansion. As rates decline, both businesses and individuals will see lower carrying costs on debt, and this sets up well for AMZN. AMZN has been able to turn its business around with rates at the highest they have been in decades, and we could see a strong continuation of this trend as a pivot occurs. If the Fed does take rates to the mid-4s in 2024 and into the 3s in 2023, the EPS estimates for AMZN could turn out to be conservative.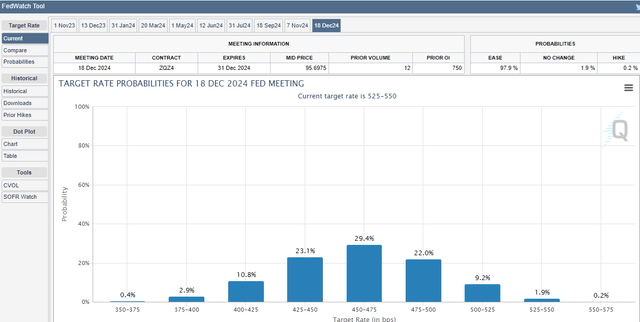 I have updated the EPS and FCF tables with AMZN's latest results and we're waiting for Apple (AAPL) to report. This is the cheapest AMZN has looked in a long time, as shares are trading at 48.57x 2023 earnings and 27.71x 2025 earnings. AMZN is expected to grow its EPS by 75.29% from the end of 2023 through 2025 from $2.63 to $4.61. However, if we get a Fed that becomes dovish and inflation that goes from sticky back to acceptable in 2024, these projections could be understated. The question for me becomes, is AMZN worth buying at 27.71x 2025 earnings knowing that there is a lot of growth on the horizon and the possibility that additional growth isn't factored in based on where cloud and E-Commerce are and what could occur with rates? AMZN is also trading at 77.89x its FCF, which is a huge step in the right direction, as it was previously trading at a negative figure. As CapEx continues to decline and AMZN grows, its FCF metric could get even more attractive and push the valuation higher.


Conclusion
I believe that Q3 2023 solidified the bull case for AMZN going into the holiday season and 2024. AMZN is controlling costs, generating a profit outside of AWS, increasing its margins, and growing its profitability. AMZN delivered operational efficiency and results in a restrictive environment as their business continues to withstand macro and geopolitical headwinds. This could be the cheapest AMZN has looked based on a valuation level in some time, and I am planning on adding to my position. AMZN has a lot of tailwinds at its back and is positioned to benefit when the Fed pivots and the cost of capital becomes less restrictive. Unless the geopolitical landscape escalates, I think we will see a bull market in 2024, AMZN could retest its all-time highs and maybe exceed them.